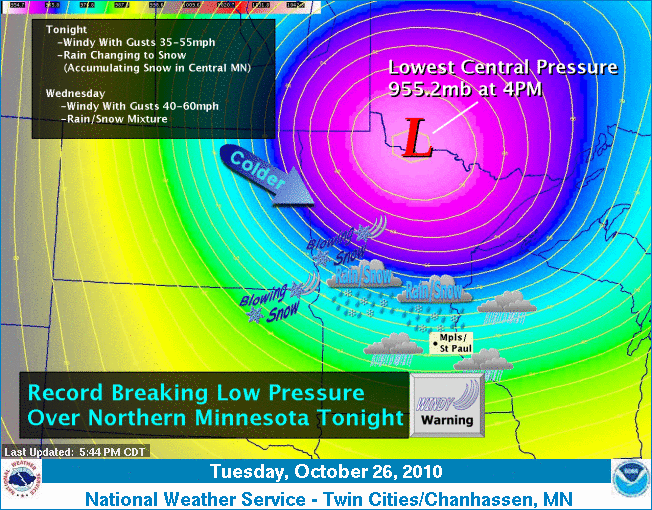 It's Tuesday night and all I can say, is at least we're not in North Dakota.
With an all time record low pressure system somehow manifesting, we (in Minnesota) are experiencing high winds and cold rain, while N.DAK is fully under BLIZZARD warning. They expect 8+ inches of snow in 55mph winds! Here in the Twin Cities we can expect cold sleet, while northern lakes area will get a good few inches of SNOW. Oh no!
The pictures tell the story folks. Time to bundle up! Rock those layers.
Meteorologists know this is an intense storm due to lowest central pressure of the low in Minnesota bottoming out in the neighborhood of 955-960 mb.
This is a storm stronger than the infamous "Edmund Fitzgerald" storm in Nov. 1975 and an even stronger version almost exactly 23 years after that in Nov. 1998.
In fact, its central pressure is now a record low pressure for a U.S. non-tropical land-based system! The central pressure not only beat the infamous Superstorm of 1993, but also nudged by the "Cleveland Superbomb of 1978"! Its pressure is also lower (stronger) than the last 4 hurricanes of the 2010 Atlantic hurricane season.